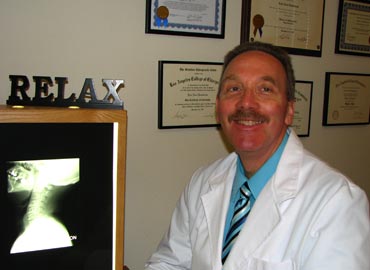 Dr. Lars Lundstrom has successfully treated thousands of Ventura County residents over the past 23 years. Patients come from Thousand Oaks, Fillmore, Ojai, Santa Barbara, Santa Paula, and Oxnard to receive the expert Chiropractic care Dr. Lundstrom has to offer. Patients travel from near and far because they have come to trust Dr. Lundstrom to get to the root of their problem quickly, getting them back to pre-injury status as soon as possible. Patients often find it refreshing when they do not have to get on a "treatment program" requiring frequent visits at frequent intervals. Over the last 23 years Dr. Lundstrom has worked hard to restore the reputation of chiropractic to the ideal that was spoken by Thomas Edison, "The doctor of the future will give no medicine but will interest her or his patients in the care of the human frame, in a proper diet, and in the cause and prevention of disease." Dr. Lundstrom utilizes personalized care, chiropractic manipulation, nutritional education, physical therapy modalities, and stretching and exercise therapies to help his patients regain their health. His practice is not a "production line" - Dr. Lundstrom spends time with each patient giving treatment that is specific and individualized for each and every person who enters his office. Dr. Lundstrom is trained in many different adjustment techniques and will use the technique he deems most beneficial for the patient.
Dr. Lundstrom is originally from Sweden and came to San Diego, California in 1980 to start his college education as well as to train for the 1984 Olympics. He received his Bachelors Degree, with honors, in Athletic Training from Point Loma College in 1984. He worked in the athletic training room helping with various athletic and non-athletic injuries for three years. In addition, he competed in Track and Field during his years at Point Loma College. In 1987 he graduated Magna Cum Laude from Los Angeles College of Chiropractic (LACC). After his graduation he relocated to Ventura where he and his wife started their family and he began his chiropractic career.
Dr. Lundstrom has post graduate certification in the treatment of automobile related injuries, including soft tissue trauma to the brain, from the prestigious world renowned Spine Research Institute of San Diego. He also obtained post graduate education in automobile accident reconstruction. His expertise in the treatment of patients involved in an auto accident is second to none. In 1991 the California Chiropractic Association appointed Dr. Lundstrom as a Board Certified Industrial Disability Examiner (IDE). This led to his appointment as a Qualified Medical Examiner (QME) by the State of California in 1995. These designations allow him to assign disability ratings and render an unbiased legal opinion about the care of patients who have had work related injuries. He frequently lectures on automobile accident related injuries, work related injuries, safe weight loss and other health related topics. Dr. Lundstrom's passion lies in the prevention of injury; therefore, much emphasis is placed on educating his patients on injury prevention strategies.
Dr. Lundstrom loves spending his free time with his wife, Carol and two adult children, Ryan and Jessica. He enjoys coaching adults and children alike in various sports, including; soccer, baseball, track and field, weight lifting and the Special Olympics. He enjoys attending Bible Fellowship Church in Ventura. He keeps fit and "practices what he preaches" by working out regularly, including weight lifting, various aerobic activities, pilates and of course daily stretching. His favorite pastimes include reading, travelling and walking his dog, Shadow.